ENGAGING MANUFACTURING'S NEXT GENERATION.
OUR MISSION & VISION
The National Robotics League (NRL)
The NRL is a manufacturing workforce development program of the National Tooling & Machining Association (NTMA). The Association's mission is to help members of the U.S. precision custom manufacturing industry achieve profitable growth and business success in a global economy through advocacy, advice, education, networking, information, programs and services.
UPCOMING EVENTS
Houston Community College – West Loop Campus
Saturday, March 21 @ 9:00am- 12:00pm
5601 W Loop S,
Houston, TX 77081
WHY MANUFACTURING?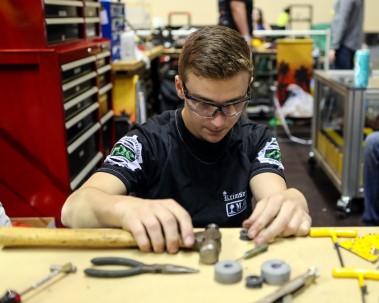 In today's world, manufacturing careers are high-tech, require a high level of skill and cover a wide area of products and industries. Whether you are interested in designing a new product, deciding how the product will be made, or making the product, you may already have an aptitude for many of the skills needed to work in the areas of Precision Machining, Electromechanical Technology, Mechanical Design, Automation, Robotics, or Engineering Technology.